Heartland Symphony Orchestra is a 50-piece volunteer, nonprofit, community orchestra located in and serving the central Minnesota area of Brainerd, Little Falls, and the surrounding rural communities. Musicians, from amateurs to professionals, come together once a week from all over the region to rehearse and perform three full-length orchestral music concerts each season in both Little Falls and Brainerd.
Special guest artists and conductors, local soloists and ensembles, area youth concerto winners, and charming repertoire commentary all help to make each concert unique and entertaining. The HSO also contributes its service to communities through music education programs, special events, and ticket give-aways. For more information, to receive a free HSO season brochure of upcoming concerts, to order your tickets, or to get involved either as a player or HSO sponsor, please email HeartlandSymphony@gmail.com or call the HSO at 1-800-826-1997.
Music Director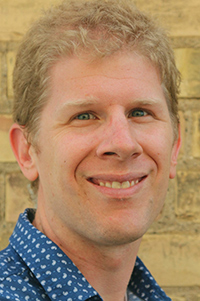 Ryan Webber is a conductor, trombonist, and educator based out of Bemidji Minnesota. He received a Bachelor of Music in Trombone Performance from the University of California, Irvine, studying under David Stetson, and a Master of Music in Trombone Performance from the University of Kansas, studying under Dr. Michael Davidson. Additional trombone studies have been completed with Graeme Mutchler, Michael Hoffman, and Dr. Jim Kraft. Ryan has studied conducting with Dr. Mathias Elmer, Dr. Kevin Sütterlin, Dr. Paul Popiel, and Dr. Stephen Tucker.
Ryan maintains an active schedule as a conductor. In 2019, he was appointed Music Director of the Heartland Symphony. During the summers, he serves as Music Director and Vocal Coach for the Northern Light Opera Company. Ryan was recently awarded a fellowship with Sinfonietta Memphis — he was selected from a pool of 60 international conductors to rehearse and guest conduct one of the leading historically-informed performance practice ensembles in the nation. Other groups Ryan has worked with include Lawrence Youth Symphony (which doubled in size during his tenure), Youth Orchestras of Kansas City, La Primavera Youth Orchestra, and Community Youth Orchestra of Southern California. Ryan is equally at home working with concert bands — he directs the Symphonic Band at Bemidji State University and regularly appears with the Bemidji Area Concert Band.
As an orchestral musician, Ryan has performed with the Bemidji, Heartland, Southeast Kansas, Kansas City Civic, and Corona Symphony Orchestras. In addition to performances around the United States, he toured China with the MasterWorks Festival Orchestra in 2014. Artists he has performed with include Natalie Cole, Bill Watrous, Jim Oatts, and Michael W. Smith.
When Ryan isn't performing, he enjoys sharing his passion for music with students of all ages. Ryan has served on the faculty of Bemidji State University since 2017, where he teaches lessons, low brass methods, and directs the Bemidji Trombone Choir. He has given pre-concert lectures for the Minnesota and Indianapolis Symphony Orchestras, and has written program notes for soloists and ensembles of all sizes, including releases for Naxos. As an administrator, he serves as the Online News Coordinator for the International Trombone Association.
Outside of music, Ryan also enjoys reading, training for half marathons, and spending time with his wife Miriam and dog Chewie.
Concert Master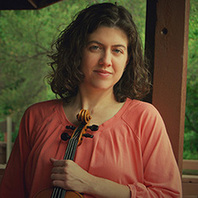 Heartland Symphony Orchestra's Concertmaster is Leslie Zander. She has taught middle level orchestra in the Brainerd Public Schools since 2000. In addition to directing the 6th-8th grade Orchestras and an extracurricular chamber orchestra, she teaches 5th grade Classroom Music at Forestview Middle School. She also maintains a private studio of violin, viola, and cello students.
Besides her work with the Heartland Symphony Orchestra, Ms. Zander performs extensively throughout the Brainerd Lakes Area with the Trillium String Trio. She has also appeared with the Great River Strings Ensemble, the Legacy Chorale, and the Long Prairie Chamber Orchestra. Past summer engagements include the Sierra Summer Festival in Mammoth Lakes, CA, the Lake Chelan Bach Fest in Chelan, WA, and the Lakes Area Music Festival.
Ms. Zander began her violin lessons at the age of three at the Aber Suzuki Center at the University of Wisconsin – Stevens Point, where her teacher was Patricia D'Ercole. She studied with Mark Bjork at the University of Minnesota – Twin Cities, earning a Bachelor of Music in Instrumental and Classroom Music. Ms. Zander also holds a Master of Arts in Differentiated Instruction from Concordia University – St. Paul.
Assistant Conductor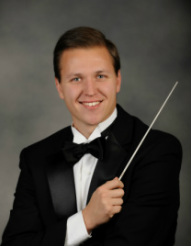 Christopher Fogderud is currently in his 13th year as Director of Bands at Brainerd High School. His responsibilities include teaching the BHS Wind Symphony, Concert Band, Jazz Ensembles and AP Music Theory as well as the BHS Marching Band and Pep Bands. He received his B.A in Music Education from Gustavus Adolphus College and his Masters of Music with a concentration in conducting from The American Band College of Sam Houston State University. He has served as clinician and guest conductor for MSHSL music contests and MBDA honor bands. Mr. Fogderud holds memberships in NAfME, MMEA, MBDA, Phi Beta Mu and has served on the College Board's Instructional Design Team in AP Music Theory.
As a performer, Mr. Fogderud is an active musician in area jazz groups, including the Rusty Crayfish Brass Band and the Lakes Jazz Authority. He is assistant conductor and principal trumpet of the Heartland Symphony Orchestra. He has also performed frequently with the Lakes Area Music Festival. An active composer of liturgical jazz music, he has written, arranged and performed jazz music for church services in the lakes area.
Apart from teaching and performing, Mr. Fogderud enjoys golfing, reading, running, and hanging out with his two cats, Louis and Dizzy. He lives in Brainerd with his wife, Sarah and their two children: Harrison (4) and Grace (18 months).
Orchestra Personnel
Click to view a listing of the Heartland Symphony Orchestra Personnel (pdf).
Board of Directors
Dean Fitch – President
James Wafler – Vice President
Tom Kotval – Treasurer
Betty Alderman
Lina Belar
Mary Clement
Deb Griffith
Bonnie Groneberg
Susan Kavanaugh
Mona Steinke
David Thompson
Peter Vogel
Don Wennberg
Michelle Sakry-Winkelman
Staff
Navasha Klapotz – Operations Director
Fran Dosh – Orchestra Manager
Alicia Cebulla – Music Librarian
Please email HeartlandSymphony@gmail.com to contact any HSO board or staff member.