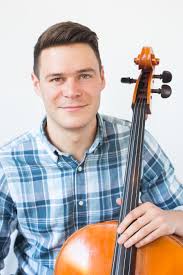 Conductor Alexander Corbett will take to the podium for the Heartland Symphony Orchestra's 41st year on Saturday, October 14, 2017, 7:30 pm and Sunday, October 15, 2017, 2:30 pm, directing music of the "Great Romantics". Music lovers from the Little Falls and Brainerd areas will be treated to musical selections by Richard Wagner, Johannes Brahms and Camille Saint-Saëns. Saturday evenings performance is at the Sacred Heart Chapel of the Franciscan Sisters, Little Falls and Sunday afternoon at Tornstrom Auditorium in Brainerd.
In concert with the HSO will be guest artist Scott Lykins, Cellist, and a favorite of the Lakes area, performing Camille Saint-Saëns: Cello Concerto No. 1 in A Minor, Op. 33. Lykins, a native of Brainerd, is Executive Director of the much beloved Lakes Area Music Festival which he created in 2009 and brings to the Lakes area seasonally. Corbett and Lykins will visit area Brainerd schools 4th grades to emphasize the joy and love of playing classical music.
Prior to each concert, Corbett will hold an audience "Conductor Chat" beginning at 6:45 pm in Little Falls and 1:45 pm in Brainerd.  Tickets for both performances may be purchased at the door, by calling 1-800-826-1997 and online at www.heartlandsymphony.com. School age youth from K-12 are admitted free.